February 26, 2019 NASTT CIPP Good Practices Course
Where
Cambie Room, Radisson Hotel Vancouver Airport
8181 Cambie Road
Richmond, BC V6X 3X9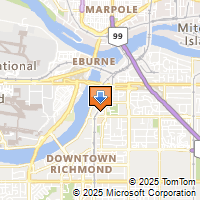 Driving Directions
NASTT Cured-In-Place Pipe (CIPP) Good Practices  Course
Course Details:
NASTT is pleased to co-sponsor its CIPP  course with NASTT- BC Chapter on February 26, 2019 from 8:00 am to 5:00 pm at the Raddison Hotel Vancouver Airport in Richmond, BC.
NASTT's Mission: Quality Education and Training Programs:
It is NASTT's mission to advance trenchless technology and to promote its benefits for the public and the environment by offering quality educational training programs on various trenchless methods. Our instructors are experts and respected leaders in their fields of expertise. NASTT will deliver a comprehensive, consensus-based course outline that is non-commercial and academically oriented. NASTT intstructors are experts and respected leaders in their field of expertise. 
*Continuing Education Units (CEUs) are offered for attendee participation.
Course Objectives:
Cured-In-Place Pipe (CIPP) technology is an effective trenchless pipeline rehabilitation method that may help address many of your city's water wastewater problems. CIPP is one of the most widely used and accepted pipeline rehabilitation methods. It significantly reduces infiltration and ex-filtration. CIPP is cost effective and increases flow capacity. And because it is trenchless, traffic congestion and site disruption are significantly reduced.
NASTT Course Instructors:
Chris Macey is the Senior Technical Director, Water Infrastructure Management for AECOM and their global Technical Practice Network leader for the Condition Assessment and Rehabilitation of Linear Infrastructure. Chris has worked on the application of trenchless and minimum excavation technologies to rehabilitate underground infrastructure in cities across North America for over 30 years. Chris has had hands-on experience in the application of CIPP technology for over 25 years. 
Kaleel Rahaim is a graduate Chemical Engineer from Mississippi State University. He has experience in many different aspects of Engineering such as project and process engineering and has been involved in the thermoset polymer industry for over 30 years. He recently retired from being the Business Manager, Pipeline Remediation Polymers for the Thermoset Resins Division of Interplastic Corporation.
Course Fees:
Price per applicant is $500.00 CAD. Registration link below.
NASTT's CIPP Good Practices Course Agenda:
7:45am      Breakfast
8:00am     Opening Remarks & Part 1 – Introduction
9:00am     Part 2 – Design & Construction of CIPP
-Description, history & methods 
10:00am   Break
10:15am   Part 3 – CIPP Application Range in Trenchless Technologies
-Types of pipelines used in CIPP process
 -Practical size, shape & length limitations
 -Types of CIPP materials
- Basics of how CIPP interacts with other materials
-Typical problems that can be addressed using CIPP
 -Practical advice on where, when and how to apply CIPP liners
11:15am  Part 4 – CIPP Testing
-Liner properties for liner design
-Liner compatibility with waste stream 
-Design requirements
12:00pm   Lunch
1:00pm     Part 5 – Design Considerations for Gravity Pipelines
-Wall thickness for a CIPP liner
 -Existing pipeline problems
 -Problem(s) in the liner's design
1:45pm     Part 6 – Key Notes for a Successful Project
 -Selection of right materials & process
-Design by an experienced, registered engineer
 -Clear & detailed well-written tender & contract specifications
 - Field quality control & quality assurance program
2:45pm    Break
3:00pm    Part 7 – Inspection & QA/QC
-Compliance with by-laws & safety regulations
-Contract specifications
 -Documentation
 -Protection of owner's interests
 -Public relactions
4:00pm   Q&A Period, Closing Remarks & Course Evaluations
4:30pm    Course Adjourned
* Breakfast and Lunch are provided!