Where
Bridgeport Room, Radisson Hotel Vancouver Airport
8181 Cambie Road
Richmond, BC V6X 3X9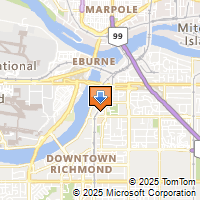 Driving Directions
 NASTT Horizontal Directional Drilling Good Practices  Course
Course Details:
NASTT is pleased to co-sponsor its HDD Good Practices Guidelines Course with NASTT -BC Chapter on February 26, 2019  from 8:00 am to 5:00 pm at the Raddison Hotel Vancouver Airport in Richmond, BC.
NASTT's Mission: Quality Education and Training Programs:
It is NASTT's mission to advance trenchless technology and to promote its benefits for the public and the environment by offering quality educational training programs on various trenchless methods. NASTT will deliver a comprehensive, consensus-based course outline that is non-commercial and academically oriented. NASTT instructors are experts and respected leaders in their fields of expertise.
* Continuing Education Units (CEUs) are offered for attendee participation.
Course Objectives:
The HDD Good Practices Guidelines course provides an in-depth overview of Horizontal Directional Drilling (HDD) and covers six topics: (1) operation and application; (2) equipment and materials; (3) planning, including surface and geological investigations, utility surveys, bore planning, and regulations and permitting; (4) jobsite safety; (5) risk reduction, trouble shooting and mitigation; and (6) design.
 NASTT Course Instructors:
Matthew Wallin is a Partner and Senior Project Manager with Bennett Trenchless Engineers located in Folsom, California. Matthew holds both Bachelor's and Master's degrees in Civil Engineering from Case Western Reserve University in Cleveland, Ohio. Matthew has focused his practice on geotechnical engineering and the design and construction management of new pipeline projects using horizontal directional drilling, microtunneling, open-shield pipe jacking, pipe ramming, and auger boring.
Dr.Jason Lueke, P.Eng. has nearly 20 years of experience in consulting, construction, education, and research focusing specifically on trenchless engineering and construction. Prior to rejoining Associated Engineering in 2012, he served three and a half years as an Assistant Professor and Senior Sustainability Scientist in the Del E. Webb School of Construction at Arizona State University teaching soil mechanics and researching trenchless methods, infrastructure utility design, and buried infrastructure management. Jason has participated as an engineer or contractor on a variety of trenchless projects involving pipe bursting, horizontal directional drilling, cured in place pipe relining, auger boring, pipe ramming, and tunneling.
Course Fees:
Price per applicant is $500.00 CAD. Registration link below.
NASTT'S HDD Good Practices Course Agenda
7:45am          Breakfast
8:00am           Opening Remarks & Introductions
8:15am           Course Overview & Background
8:30am                HDD Application & Processes
-Cable and pipe installations for electric, fiber optic, CTV, gas, water, sewer (including gravity)
-Diameters from 2 to 65 in. (steel, HDPE, PVC, DIP)
-Lengths over 10,000 ft. +, but less than 1,000 ft. more common
-Installation beneath streets, rivers, bays, other obstacles, through soft soils to hard rock
-Plot bore, including bore tracking
-Reaming
-Pullback of product
-Connections, demobilization and cleanup/site restoration
9:30am                HDD Equipment and Materials
-Types of rigs (small, medium, large)
-Thrust/Pullback and rotational torque characteristics
-Introduction to various models of rigs
10:15am                 Break
10:30am                 HDD Tooling
-Machine Performance, Capabilities, and Application Guidelines
-Drill Pipe
-Drill Bits and Downhole Tools
-Product Pipe
-Cable/Pipe Pulling Devices/Swivels
-Drilling Fluid Delivery, Recovery, and Containment Systems
-Drilling Fluid and Additives
11:15am              Bore Tracking & Equipment
11:45am              Lunch
1:00pm                HDD Design
-Surface Investigation
-Utility Survey
-Geotechnical Site Investigations
-Permits and Requirements
-Construction Method Selection
-Impact to Residents, Business, and Traffic
-Constrained Work Areas- Rig Relocation
-Design Analysis and Calculations
-Contact Grouting
-Conductor Casings
-Plans and Specifications
-Safety Plan
2:45pm                Break
3:00pm                Overview of Drilling Fluids
-Mixing Systems
-Holding Tanks
-Cleaning Systems
-Equipment for Containment, Collection, and Disposal
-General Drilling Fluid Functions and Properties
-Circulation
-Annular Volume
-Lost Circulation
-Drillling Fluid Pump Efficiency
-Drilling and Reaming Penetration Rates
-Field Tests for Drilling Fluid & Slurry Analysis
4:00pm    Bore Planning
-Locates
-Site Walkover & Calibration of Transmitter/Receiver
-Bore Planning Tools
-Selection of Appropriate Equipment and Tooling
-Site Geometry, Topography, and Constraints
-Schedule Constraints (Project Completion, Work Hr)
-Drilling Fluid Support System
4:30pm                In-class Evaluation
5:00pm                Course Adjourns
* Breakfast and Lunch provided!